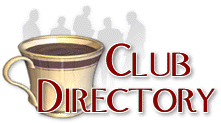 This directory lists over 2300 clubs related to Antiques and Collectibles
Click here to register your club -- Its FREE!
Find a club by name, starting with the letter:
A B C D E F G H I J K L M N O P Q R S T U V W X Y Z Other


Wheelmen
Contact: Contact
55 Bucknell Ave
Trenton, NJ 08619-2059 US
Phone: (609) 587-6487
Website

The club was founded in 1967 at Hoopes Park, Wilmington, DE, at it's first Official High Wheel Tour by 12 men mainly from the Philadelphia area. Today the club has over one thousand members across the U.S., Canada and overseas. In the 30 plus years of its existence, the club has participated in major events such as the 1976 Bicentennial in Philadelphia, the 1982 World's Fair in Knoxville, TN, and grand parades in New York, Detroit, Washington, Milwaukee and Indianapolis. Each year the club has an Annual Meet.