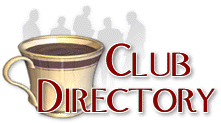 This directory lists over 2300 clubs related to Antiques and Collectibles
Click here to register your club -- Its FREE!
Find a club by name, starting with the letter:
A B C D E F G H I J K L M N O P Q R S T U V W X Y Z Other


US/Mexican Numismatic Association (USMexNA)
Contact: Don Bailey
PMB#139
250"D" S.Lyon Ave
Hemet, CA 92543 US
Website

During the May 1997 International Numismatic Convention held in Mexico City, it was decided to form a numismatic association in the United States, devoted to Mexican Numismatics, called the U.S. MEXICAN NUMISMATIC ASSOCIATION. The interim board of directors consists of Joe Flores (StocktonCA) Sal Falcone (SanJoseCA) and Don Bailey (HemetCA) who will serve as interim Executive Director.

It was felt that with the increased interest in Mexican numismatics, and the rising Hispanic population, an organization such at this was needed. There are currently several numismatic organizations covering other countries in the United States, as there was in the past with Mexican Numismatics. It also was felt by the interim board, and other prospective members, that even with the existence of the Sociedad Numismatica de Mexico, within Mexico, and corresponding members in the United States, there was a need to bring these members together with the current nonmembers, in an effort to encourage Mexican numismatics through out the world. This is meant to encourage support for the society in Mexico, not to detract from them.

The purposes of this association are to:
1) Encourage Mexican Numismatics around the world.
2) To encourage youth, both within Mexico, and the United States to pursue the study of Mexican Numismatics.
3) To conduct educational forums and meetings at various shows around the country.
4) To encourage and support the efforts of the Sociedad Numismatica de Mexico.
5) To publish a quarterly newsletter, with educational articles, news of the Sociedad, new coinage reports, and any other information that the membership would like, and might find helpful. Joe Flores has agreed to write a Mexican Revolution Corner each issue.
6) One idea that the interim board has tossed round is doing a Mexican Coin Board that the Professional Numismatists Guild (PNG) has done. This, if done, could be used both in the United States and in Mexico to encourage youth involvement.
7) To encourage more numismatists to travel to the International Conventions held in Mexico City and Guadalajara. Some of the old timers will remember the large numbers that traveled to Mexico for these conventions. This was when the Azteca Numismatic Society, RevMex, and the Maximilian Numismatic Society were all functioning and doing well.

USMexNA will be formed as a Michigan non-profit corporation. The Charter membership enrollment period will be until December 31, 1997. Membership is open to all that are interested in Mexican numismatics, and will be international in scope. The dues for the interim year ending December 31, 1997 has been set at $15.00 US. Checks should be made payable to the "US Mexican Numismatic Association" and sent to Don Bailey at the following address:
Don Bailey (909)652-7875 PMB#139
250"D" S.Lyon Ave, Hemet, CA 92543

HOMER, MI 7/3/98 Youth Program Established USMexNA has adopted a youth program, which sets the max age at 18, or 21 if full time student. Dues will be $5.00 or waived with submission of a one page or more essay on why they want to be a member, or on a Mexican Numismatic theme. These can be submitted in either English or Spanish.

An annual youth scholarship to the ANA seminar. Youth must submit a 500 word or more essay on a Mexican Numismatic subject. Scholarship winner to be selected by the Youth Committee. The Youth Committee is Sal Falcone, Chair, and David Hughes and Bob Bandy. Deadline for applications shall be determined by same committee.

Coins and other numismatic material shall be awarded at the discretion of the Youth Committee. Donations of material, or money will be accepted for the Youth Program.