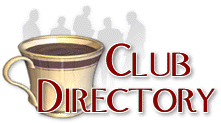 This directory lists over 2300 clubs related to Antiques and Collectibles
Click here to register your club -- Its FREE!
Find a club by name, starting with the letter:
A B C D E F G H I J K L M N O P Q R S T U V W X Y Z Other


Wallace Nutting Collectors Club
Contact: Jan K. Liberatore
186 Mountain Ave
North Caldwell, NJ 7006 US
Website

Wallace Nutting (1861-1941) attempted to record "that old life in America, which is rapidly passing away." The goal of this web site is to preserve the legacy of Wallace Nutting and inform the world about this interesting man. Nutting was a photographer, author, antiquarian, minister, and above all, an entrepreneur.

It is a pleasure that I share with you my collection of pictures, books, letters, furniture and research material that I have accumulated over the years. This site will feature images of much of this material. As I search for and discover more material and information I will share it with you. And, hopefully, many others will contribute pieces of their collection to The Wallace Nutting Center.