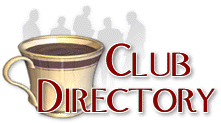 This directory lists over 2300 clubs related to Antiques and Collectibles
Click here to register your club -- Its FREE!
Find a club by name, starting with the letter:
A B C D E F G H I J K L M N O P Q R S T U V W X Y Z Other


Washington (State) Edsel Club
Contact: Ron Osburn
President
Phone: 425-337-9555
Website

Our Club is dedicated to the preservation, restoration and promotion of the "EDSEL." The Washington Edsel Club is dedicated to bringing together people who treasure this wonderful vehicle and to promoting the exchange of information and ideas, including technical assistance, parts location and much more.