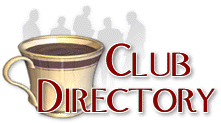 This directory lists over 2300 clubs related to Antiques and Collectibles
Click here to register your club -- Its FREE!
Find a club by name, starting with the letter:
A B C D E F G H I J K L M N O P Q R S T U V W X Y Z Other


Zeiss Historica Society
Publications: twice yearly
Contact: Membership
300 Waxwing Drive
Cranbury, NJ 8512 US
Website

Zeiss Historica is a nonprofit, educational organization that is dedicated to the research and preservation of the history of the Carl Zeiss optical firm, its affiliates, subsidiaries, people and products from its founding in 1846 to the present. Since Zeiss has been and is a trailblazer in the world of optics and mechanical instruments, these products are highly innovative and collectable. Our organization is not directly affiliated with the firms of Carl Zeiss but rather keeps close track of Zeiss collectibles as well as their history and development.

Twice yearly, the society publishes the Zeiss Historica Journal. Since 1978 this publication has provided the collecting community with numerous, authoritative and clearly illustrated documentation that describes in detail a wide selection of Zeiss collectible products; their evolution, design, and function. We also address biographies of prominent figures in science, optics, and photography related to Zeiss. The material is collected and contributed by society members interfacing with each other, Zeiss experts and other interested parties in free exchange of information.