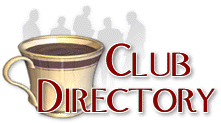 This directory lists over 2300 clubs related to Antiques and Collectibles
Click here to register your club -- Its FREE!
Find a club by name, starting with the letter:
A B C D E F G H I J K L M N O P Q R S T U V W X Y Z Other


Zeppelin Collectors Club
Contact: Dr. Cheryl Ganz
PO Box 1239
Elgin, IL 60121-1239 US
Website

The AAMS was founded in 1923, and is the second oldest aerophilatelic society in the world with over 1,500 members worldwide. The AAMS publishes the monthly magazine The Airpost Journal & the Jack Knight Air Log, as well as the American Air Mail Catalogue, and many other aerophilatelic books. See the list of Airpost Journal & Air Log Staff & Department Editors. See the Publications page for the aerophilatelic books & publications which are currently available. The AAMS holds an annual convention, as well as a Spring and/or Fall meeting during philatelic exhibitions in different parts of the country.