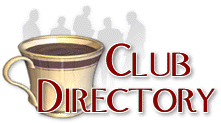 This directory lists over 2300 clubs related to Antiques and Collectibles
Click here to register your club -- Its FREE!
Find a club by name, starting with the letter:
A B C D E F G H I J K L M N O P Q R S T U V W X Y Z Other


Heisey Collectors of Texas
Contact: Greg Freeman
Phone: (972) 289-6159
Website

We are glad y'all stopped by the website of the Heisey Collectors of Texas, organized July 15, 1975. Our study club is an affiliate of the Heisey Collectors of America, Inc. We are proud to have received Charter No. 16 during the National Heisey Convention, in June of 1976. We are dedicated to the study, collection and preservation of the elegant, hand-made glassware that was produced by the A. H. Heisey Co. between 1896 and 1957. We are also proud to support and promote the National Heisey Museum, which is located in Newark, Ohio. The Heisey Collectors of Texas meets in the member's homes on the second Saturday of January, March, May, July, September and November. Visitors are always welcome! Please use the "Contact Us" button to receive more information.