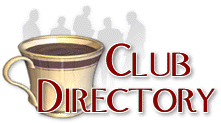 This directory lists over 2300 clubs related to Antiques and Collectibles
Click here to register your club -- Its FREE!
Find a club by name, starting with the letter:
A B C D E F G H I J K L M N O P Q R S T U V W X Y Z Other


National American Glass Club (Sandwich Chapter, Rockville, MD)
Contact: Susan B. Strange

Chapters of The National American Glass Club are found across the United States. Small chapters meet in private homes while others meet publicly. Video and slide programs from NAGC are available for chapter meetings. Membership in the NAGC does not require membership or participation in a chapter.