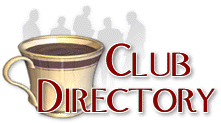 This directory lists over 2300 clubs related to Antiques and Collectibles
Click here to register your club -- Its FREE!
Find a club by name, starting with the letter:
A B C D E F G H I J K L M N O P Q R S T U V W X Y Z Other


Finger Lakes Bottle Collectors Association
Contact: Dave Jones
176 Tomkins St
Cortland, NY 13045
Website

The Finger Lakes Bottle Collectors Association (FLBCA) was organized in April 1969. It is a non profit organization composed of individuals and families who share a common interest in bottles, fruit jars, glass, stoneware, related items, advertising, and other antiques and collectibles. The goal of the FLBCA is to enhance and promote the enjoyment of the hobby by sharing information with other collectors. MEMBERSHIP is open to any individual, family or club at a cost of $10 per year. WE HAVE FUN! FLBCA meets the second Tuesday of each month. (except July & August) Meetings begin at 7:30 pm at the VETERANS FIRE HALL, Rt 13 (Elmira Rd) ITHACA,NY.Refreshments served. Monthly programs! Club digs! Bottle Raffles! Monthly Newsletter! Annual Picnic and Christmas Party!