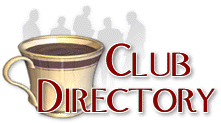 This directory lists over 2300 clubs related to Antiques and Collectibles
Click here to register your club -- Its FREE!
Find a club by name, starting with the letter:
A B C D E F G H I J K L M N O P Q R S T U V W X Y Z Other


Findlay Antique Bottle Club
Contact: Findlay Antique Bottle Club
Website

The Findlay Antique Bottle Club is known for its FAB-ulous annual OCTOBER BOTTLE SHOW & SALE, with its friendly atmosphere, amazing displays, and tasty FREE supper for the dealers! You'll find bottles, jars, insulators, milks, medicines, advertising and so much more -- All kinds of goodies for all collectors!