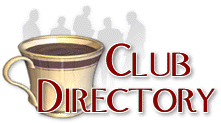 This directory lists over 2300 clubs related to Antiques and Collectibles
Click here to register your club -- Its FREE!
Find a club by name, starting with the letter:
A B C D E F G H I J K L M N O P Q R S T U V W X Y Z Other


Enchantment Insulator Club
Contact: Mike Gay
5516 Kachina NW
Albuquerque, NM 87120
Phone: 505-899-8755
Website

The Enchantment Insulator Club draws members from throughout New Mexico and the Southwest. There are approximately 25 members in the club, and dues are only $10.00 per year. The EIC sends out a quarterly newsletter, and has club meetings three or four times a year. The major club event is the well-attended annual fall show, and there are ad hoc picnics, swaps and insulator-hunting trips as well. The EIC also cosponsors Tailgaters each year in conjunction with clubs in neighboring states. A multicolored club patch sporting the colorful EIC logo is available.