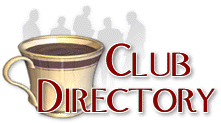 This directory lists over 2300 clubs related to Antiques and Collectibles
Click here to register your club -- Its FREE!
Find a club by name, starting with the letter:
A B C D E F G H I J K L M N O P Q R S T U V W X Y Z Other


Yankee Pole Cat Insulator Club
Contact: Bill Meier, John Rajpolt
103 Canterbury Court
Carlisle, MA 01741
Phone: 978-369-0208
Website

The Yankee Pole Cat Insulator Club, founded in 1971, draws its members from New England and bordering states. There are approximately 70 members. Dues are $10.00 per year. A club newsletter is published around four times a year. The club sponsors a spring show each year as well as two cookout/swap meets in the summer. A club patch is available for $5.00. For 2007 membership is free - just email your name and address to the address below.