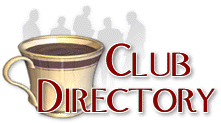 This directory lists over 2300 clubs related to Antiques and Collectibles
Click here to register your club -- Its FREE!
Find a club by name, starting with the letter:
A B C D E F G H I J K L M N O P Q R S T U V W X Y Z Other


Glass Circle
Publications: Glass Circle News, Glass Circle Journal
Contact: John P. Smith
Website

THE GLASS CIRCLE was founded in 1937 by John Maunsell Bacon, the great, great, great grandson of the famous English sculptor John Bacon. J.M. Bacon was a retired civil servant and schoolteacher with a fascination for old English glass which he collected cheaply by hunting through bric-a-brac shops at a time before English glass became a serious collector's interest, keeping well clear of the expensive antique emporiums of the day. As a result, he was able to form an outstanding collection of early English glass on modest means. He loved nothing better than to discuss old glass and formed many friendships, particularly with the wealthier collectors of the day. Hence, when The Circle of Glass Collectors, as it was originally called, was first formed at his instigation, its President was W.A. Thorpe, Curator of Glass at the Victoria & Albert Museum, and the members were professional men with a sprinkling of titled gentry. Ladies were encouraged to join, notably Mrs Stevenson, an authority on Jacobite glass, and Lady Ruggles Brise, an acknowledged expert on wine and old wine bottles and author of the original definitive text on this subject. The membership criteria was strict! Members were selected on the basis of the quality of their collection and meetings were held on a regular basis (in evening dress!) in members private houses and by exclusive hand-written invitation. Today, with over four hundred members world-wide, The Glass Circle has changed and adapted to modern circumstances. Evening dress for meetings went out at the end of the second world war, as did special invitations and meetings in members' houses. Each year the Circle organises a regular programme of eight evening sessions covering a wide range of glass interests. Light refreshments are served at a suitable meeting house, currently the historically nostalgic environment of The Artworkers Guild, in London. Occasional social meetings to study glass are held, by invitation, of the auction houses, dealers or museums. A summer or early autumn visit is arranged to a place of glass interest. In 1987, our Diamond Jubilee was celebrated with an exhibition of 18th century English glass at Christie's in King Street, London. Various publications accompanied the exhibition including an illustrated catalogue, a reissue of a booklet written by Bacon for new glass collectors. Later that year a Symposium on Important British Glass (1675 - 1845) and its Collectors, was held at The British Museum. This has now been published as "Glass Collectors and their Collections in Museums in Great Britain". This is available to non members for £4.00 including postage. Current publications include a lively quarterly Newsletter, Glass Circle News (GCN), and biennially, the Glass Circle Journal. GCN covers a wide range of events examples of which may soon be viewed in the archives on this site. The Glass Circle Journal contains of mainly new research material.