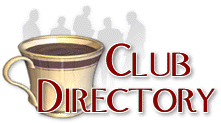 This directory lists over 2300 clubs related to Antiques and Collectibles
Click here to register your club -- Its FREE!
Find a club by name, starting with the letter:
A B C D E F G H I J K L M N O P Q R S T U V W X Y Z Other


Utah Collectors
Contact: Utah Collectors
PO Box 142
Midvale, UT 84047
Website

Welcome to Utah Collectors where we celebrate your obsession with Antiques, Antique Bottles, and other collectibles. Visit our member pages for Antique Bottles, Antiques and other Collectibles. You may buy, sell, trade, and give and get information. You may Join Us and build a simple web presence for your antiques and collectibles. Be sure to subscribe to our Newsletter with interesting articles and stories In any case, visit, look around, place a Classified or simply share your interest with others like you! Become one of Utah's Treasure Hunters. Check out our local association. Learn the science of restoring your bottles to their wonderfully clean and polished condition.