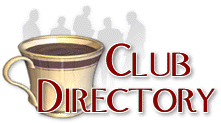 This directory lists over 2300 clubs related to Antiques and Collectibles
Click here to register your club -- Its FREE!
Find a club by name, starting with the letter:
A B C D E F G H I J K L M N O P Q R S T U V W X Y Z Other


Texas Regional Imperial Glass Collectors
Contact: Don Bearden
Website

This club was started by individuals that loved collecting Imperial Candlewick, who thought it was necessary to spend time together to learn more about the items for which they were so avidly searching. This was in November, 1990. The collectors met socially once or twice a year until they finally decided to make the club "official" in March, 1993, by adding all of the Imperial items and giving the club a name. The club has grown in the knowledge of Candlewick and in the knowledge of Imperial Items in general. Anyone that collects Imperial Glass is welcome to come and join. The only agenda that we have is to share what we have learned about Imperial Glass and have a good visit in the process. The club meets quarterly. Show & Tell is usually a part of every meeting. (Some buying, selling, and trading has also been known to take place). Come join us at the next meeting and experience the joy of collecting, learning, and sharing.