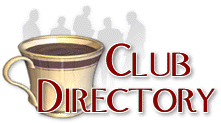 This directory lists over 2300 clubs related to Antiques and Collectibles
Click here to register your club -- Its FREE!
Find a club by name, starting with the letter:
A B C D E F G H I J K L M N O P Q R S T U V W X Y Z Other


Inn Sign Society
Publications: At the Sign Of
Contact: Alan Rose
Website

In 1988 a small number of people interested in Inn Signs met with the intention of gathering and recording as much information as possible about inns, their names and their signs.The Dew Drop Inn, Hanley ,Staffordshire In 1990 this group was formerly constituted as THE INN SIGN SOCIETY, and from its small beginnings has grown to a membership of about 400 - which we hope will continue to grow as the Society becomes more well known. The object of the Society is to bring together those who hold a common interest in the Inn Sign generally, and to provide them with a platform for the interchange of information and also help with their research. The Society is building an archive of written and photographic material (both prints and slides) using an electronic retrieval system - thus preserving the information for future generations. A quarterly Journal, appropriately called 'At The Sign Of'' is distributed to all members. This Journal records new signs, name changes, and provides the basis of the Society's information and answers any queries that may have been raised by the members. Now recognised as the leading authority on the subject of Inn Signs, the Society is regularly consulted by local historians, artists, breweries and the Media - in fact anyone who may need some clarification on the derivation of a pub name, or why its sign has been illustrated in a particular way. Membership, which is world wide, is drawn from all walks of life - many of whom were of the belief initially that they were alone in their interest until they became aware of the Society. Their interests vary, of course, from the casual observer to the specialist in one particular subject on the signboard. There are members who collect solely signs concerning Royalty, and those who prefer military, railway or animal, etc. Whatever your interest in the signboard, the Society is the place to share and expand your knowledge. All are made welcome.