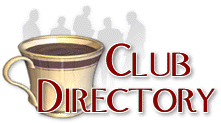 This directory lists over 2300 clubs related to Antiques and Collectibles
Click here to register your club -- Its FREE!
Find a club by name, starting with the letter:
A B C D E F G H I J K L M N O P Q R S T U V W X Y Z Other


Radio History Society
Contact: Radio History Society
Website

In the early 1990s, members of MAARC concluded that there was a need for a radio and television museum in the Washington/Baltimore area. A committee was formed to study the issue. To pursue this objective, a non-profit corporation—The Radio History Society—was incorporated in Maryland in 1993 for the sole purpose of creating and maintaining a museum to preserve radio and television artifacts and educate the public on the important role of radio/TV technology and broadcasting. In June 1999 this goal was achieved, when the Radio - Television Museum in Bowie, MD, opened its doors to the public for the first time, housed in a 1905 historic farmhouse owned by the City of Bowie.

RHS's enthusiastic membership is growing. The permanent collections of the Museum are also growing as people donate radios, television sets, microphones, memorabilia, books, magazines, and broadcasting ephemera. RHS has IRS 401(c)(3) status (hence donations of money or artifacts to the museum are tax deductible).