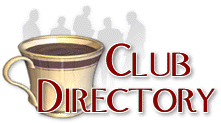 This directory lists over 2300 clubs related to Antiques and Collectibles
Click here to register your club -- Its FREE!
Find a club by name, starting with the letter:
A B C D E F G H I J K L M N O P Q R S T U V W X Y Z Other


Florida Antique Wireless Group (FAWG)
Publications: THE FAWGHORN NEWS
Contact: Dennis Williams, Co-Chair
1987 Corporate Square
Suite 151
Longwood, FL 32750 US
Phone: (407)895-9075
Website

The FAWG was formed in 1991 by Paul Currie and myself, and now has hundreds of members in Florida, North America and worldwide. Paul has retired to the board of advisers, and my new co-chair is Kris Rhodes, a long-time behind-the-scenes helper anyway. Kris' area of interest is vacuum tube audio equipment.

We mail a newsletter, THE FAWGHORN NEWS, and hold a swapmeet three times a year, have an annual club auction, and participate in other activities such as regional hamfests.

FAWG has no dues, but we do expect our members to attend at least one function during the year, and/or make a donation of some postage to get the newsletter out. That's all you have to do to stay on the mailing list for a year.