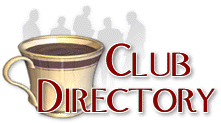 This directory lists over 2300 clubs related to Antiques and Collectibles
Click here to register your club -- Its FREE!
Find a club by name, starting with the letter:
A B C D E F G H I J K L M N O P Q R S T U V W X Y Z Other


Xtal Set Society
Publications: Xtal Society News
Contact: The Xtal Set Society
PO Box 3636
Lawrence, KS 66046
Phone: 405-517-7347
Website

Crystal Sets? Yup, you've found an entire site about building Crystal Sets. The Society has been growing over the past 13 years as word gets out to enthusiasts. Still, some people are flabbergasted to find an entire society dedicated to Crystal Set radios (or "Xtal Sets"). One web surfer e-mailed, "I was so excited to find your site that I fell off my chair!" The Xtal Set Society publishes a newsletter and numerous books, all of which you can find more information about on this site.