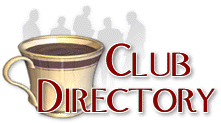 This directory lists over 2300 clubs related to Antiques and Collectibles
Click here to register your club -- Its FREE!
Find a club by name, starting with the letter:
A B C D E F G H I J K L M N O P Q R S T U V W X Y Z Other


Forces Postal History Society
Contact: Webmaster
Website

Established in 1952, the Forces Postal History Society was formed to bring together the many collectors interested in the postal history of the Armed Forces of all countries, (and United Nations), at all times, whether in war or peacetime, including the study of postmarks, cachets, postage rates, prisoner-of-war mail, stamps and stationery, censorship and the organisation of military postal services.

Since its formation the Society has achieved steady growth with over 350 members in many countries. A wide variety of interests is catered for covering all military forces in all theatres of war and in peacetime.