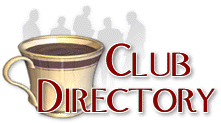 This directory lists over 2300 clubs related to Antiques and Collectibles
Click here to register your club -- Its FREE!
Find a club by name, starting with the letter:
A B C D E F G H I J K L M N O P Q R S T U V W X Y Z Other


National Association Breweriana Advertising: Goebel Gang
Contact: Jim Mahler
Website

NABA encourages local chapters to promote the hobby and provide local fellowship,
a strong social program and other encouragement to collectors. For example, Chicagoland's long-established Monarch Chapter has a very active trading and social schedule, and its annual Fall Fest is a miniconvention of national stature. The Capitol City Chapter co-sponsors "The Blue and Grey", another nationally ranked annual weekend miniconvention in February. The Queen City Chapter holds its famous "Luck of the Irish" show every March, plus two or more regular "trade sessions". Michigan's Dog-Gone Good Chapter conducts several Buy-Sell-Trade sessions a year. The Patrick Henry Chapter holds one show per year in May, and is located in the middle of the Detroit-Chicago corridor. Many of the chapters (Queen City, Capital City, Gambrinus and Patrick Henry) have a shared sponsorship with other breweriana collecting clubs, maximizing their members exposure to different aspects of breweriana collecting.