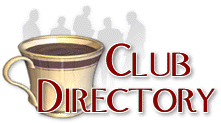 This directory lists over 2300 clubs related to Antiques and Collectibles
Click here to register your club -- Its FREE!
Find a club by name, starting with the letter:
A B C D E F G H I J K L M N O P Q R S T U V W X Y Z Other


Yesterdays Chevelle Club
Contact: Seve Wilson
Website

Welcome to the Peach State Chevelles web site. We are one of Georgia's largest and oldest car clubs dedicated solely to 1964 through 1972 Chevelles and El Caminos. While you browse our pages, please check out some of our members cars, our classified section, our club store, and some pictures of our recent shows, along with links to useful sites, and suppliers that we recommend . You can click on Member Signup and join our club right here online. Thank you again for visiting us, and come back soon. Happy Motoring!