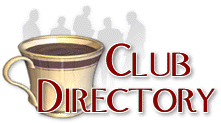 This directory lists over 2300 clubs related to Antiques and Collectibles
Click here to register your club -- Its FREE!
Find a club by name, starting with the letter:
A B C D E F G H I J K L M N O P Q R S T U V W X Y Z Other


Walter P Chrysler (WPC) Club: Vancouver Islane Region
Contact: Ian Smale
Website

The W.P.C. Club (Walter P. Chrysler) is a non-profit organization dedicated to the preservation, restoration, and enjoyment of Chrysler Products, namely Plymouth, Dodge, DeSoto, Chrysler, Imperial, Jeep, Eagle and related vehicles, including antecedents Maxwell and Chalmers Motor Cars.

The Vancouver Island Region of this club (the only Canadian Region) was founded in 1981 with the purpose of giving Chrysler Product owners on Vancouver Island a common club to be involved in with the purpose of having fun, fellowship and enjoyment of Chrysler built automobiles.
The Region is very active all year long, with monthly meetings and
tours. We publish a monthly newsletter which is sent out to all paid-up regional members. Our parent club, the WPC Club, INC. is located in Kalamazoo, Michigan and supports various regions of the club throughout North America, Britain, Norway and Sweden, with more than 4000 members worldwide.