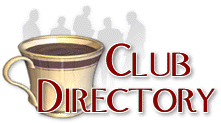 This directory lists over 2300 clubs related to Antiques and Collectibles
Click here to register your club -- Its FREE!
Find a club by name, starting with the letter:
A B C D E F G H I J K L M N O P Q R S T U V W X Y Z Other


Saginaw Valley Bead Society
Contact: Saginaw Valley Bead Society
C/O Ruth Spiekerman
926 Reed St.
Saginaq, MI 48602
Website

The Saginaw Valley Bead Society welcomes the public to one free visit . As a member you are entitled to a monthly newsletter, field trips, discount card for participating stores, and an opportunity to work the bead show. The membership year runs from Sept. 01-Aug. 31, but you can sign up at anytime.