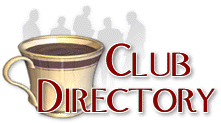 This directory lists over 2300 clubs related to Antiques and Collectibles
Click here to register your club -- Its FREE!
Find a club by name, starting with the letter:
A B C D E F G H I J K L M N O P Q R S T U V W X Y Z Other


Big Little Book Collectors of America
Contact: Larry Lowery
PO Box 1242
Danville, CA 94526 US
Website

The Big Little Book Club has been in existence since January of 1982. In that year, six issues of The Big Little Times, the club's bimontly newsletter, were published by John Stallknecht. All issues from 1983 to the present have been published by Larry Lowery, the current President of the BLB Club and Editor of The Big Little Times newsletter. When Larry took over the Club in 1983, he established a wallet-size club card for each member. On the card is a BLB whose title is reserved for the member's name. Titles have been given out in the order of their production. At the time of this writing, over 1,000 enthusiasts have become members in the club. When the total reached 1000, the Club numbering system, by necessity, is recycling the book title/numbering system.

The club serves as a conduit of ideas for collectors and dealers. It helps individuals make contacts with other individuals. And it often helps collectors find elusive books at reasonable prices.

Once in a while the club holds a meeting at a toy-and-collectibles show. Meetings in the past have been held in California, Texas, and Maine.