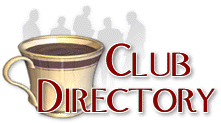 This directory lists over 2300 clubs related to Antiques and Collectibles
Click here to register your club -- Its FREE!
Find a club by name, starting with the letter:
A B C D E F G H I J K L M N O P Q R S T U V W X Y Z Other


West and Midlands Match Label Society
Contact: Peter Campion
Website

The West & Midlands Match Label Society was founded in 1955 and produces 'The Matchbox', a quarterly magazine which endeavours to cover all aspects of the match label, box and ephemera collecting hobby. The annual subscription is £5 for UK residents and £8 for overseas to include airmail delivery of the magazine. Please go to our membership page to find details of how to join.

The society also has an annual meeting (usually 3rd Saturday of September) at Gloucester where members sell and exchange items of the hobby followed by an auction in the afternoon, giving a friendly and pleasant day out.