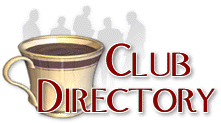 This directory lists over 2300 clubs related to Antiques and Collectibles
Click here to register your club -- Its FREE!
Find a club by name, starting with the letter:
A B C D E F G H I J K L M N O P Q R S T U V W X Y Z Other


Canadian Toy Collector's Society
Focus: Canadian Toys
Contact: Membership Secretary
91 Rylander Blvd.
Unit 17, Suite 245
Scarborough, ON M1B5M5 CA
Website

The Canadian Toy Collectors' Society is an incorporated (not for profit) club dedicated to the collection and preservation of all types of toys, particularly those of Canadian origin.