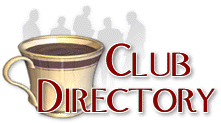 This directory lists over 2300 clubs related to Antiques and Collectibles
Click here to register your club -- Its FREE!
Find a club by name, starting with the letter:
A B C D E F G H I J K L M N O P Q R S T U V W X Y Z Other


Figures Collectors Club
Publications: Newsletter: Figure Collector
Contact: Colleen Lewis
10120 Main St.
Clarence, NY 14031-2049 US
Phone: 716-741-8399
Fax: 716-759-7462
Website

International club for character/cartoon figure collectors; quarterly newsletter with information, reviews, ads, etc. about figures including the 'Archives,' a detailed listing of figures by series with pictures; special offers for members.