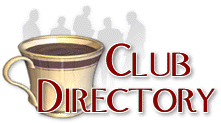 This directory lists over 2300 clubs related to Antiques and Collectibles
Click here to register your club -- Its FREE!
Find a club by name, starting with the letter:
A B C D E F G H I J K L M N O P Q R S T U V W X Y Z Other


Old Morgantown Glass Collectors' Guild
Publications: Newsletter: Topics
Contact: Jim Wiley, Pres.
P.O. Box 894
Morgantown, WV 26507-0894 US
Phone: 724-941-2546
Website

Dedicated to the education of members and the preservation of Old Morgantown glass through the establishment of a museum in Morgantown, WV.