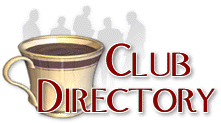 This directory lists over 2300 clubs related to Antiques and Collectibles
Click here to register your club -- Its FREE!
Find a club by name, starting with the letter:
A B C D E F G H I J K L M N O P Q R S T U V W X Y Z Other


Lawrence L. Lee Scouting Museum
Publications: Scout Memorabilia
Contact: Edward L.Rowen, Editor
571 Holt Ave.
Manchester, NH 03109 US
Fax: 603-625-2467
Website



Welcome to the Lee Scouting Museum...home to one of the finest displays of Scouting memorabilia in the world! Located at Camp Carpenter in Manchester, NH, the museum was founded in 1969 and is owned and operated by the Daniel Webster Council, BSA.

The Lawrence L. Lee Scouting Museum/Max I Silber Scouting Library represents an exciting, unique, and colorful repository for an exceedingly large collection of Boy Scout memorabilia and an exceptional Scouting Library. Artifacts relating to Scouting in New Hampshire, New England, the United States, and the World are on display for all ages to come and enjoy. We hope you will come and visit us!