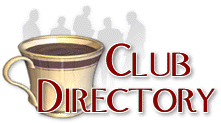 This directory lists over 2300 clubs related to Antiques and Collectibles
Click here to register your club -- Its FREE!
Find a club by name, starting with the letter:
A B C D E F G H I J K L M N O P Q R S T U V W X Y Z Other


Reed Organ Society International
Contact: Jim Quashnock, Treasurer/Membership
3575 State Hwy. 258 E
Wichita Falls, TX 76308-7037 US
Fax: 940-723-5886
Website

ROS Quarterly (MAG) contains articles on reed organ history, restoration advice, organ identification requests, and classified ads. Membership dues $30 in U.S., $40 in Canada, $50 outside of North America.