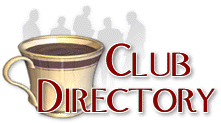 This directory lists over 2300 clubs related to Antiques and Collectibles
Click here to register your club -- Its FREE!
Find a club by name, starting with the letter:
A B C D E F G H I J K L M N O P Q R S T U V W X Y Z Other


20th Century Railroad Club
Contact: Stan Brandt
PO Box 476
Wilmette, IL 60091-0476 US
Fax: 312-458-5082
Website

The 20th Century Railroad Club is incorporated as a not-for-profit educational and historical organization. As an important part of our mission, we award scholarships to midwestern universities, and matching grants to other railroad-oriented non-profit groups to aid in preserving and restoring railroad equipment and memorabilia. These awards are made as funds become available.