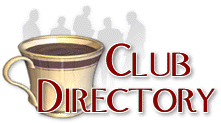 This directory lists over 2300 clubs related to Antiques and Collectibles
Click here to register your club -- Its FREE!
Find a club by name, starting with the letter:
A B C D E F G H I J K L M N O P Q R S T U V W X Y Z Other


Young Stamp Collectors of America
Publications: YSCA e-newsletter available on website. YSCA if for young stamp collectors under 18.
Contact: Janet Houser, Youth Coordinator
100 Match Factory Pl.
Bellefonte, PA 16823-1367 US
Phone: 814-933-3820
Fax: 814-933-6128
Website



Young Stamp Collectors of America is a club for collectors, under 18. Whether you are new to the hobby or have collected postage stamps for several years, the YSCA offers a variety of ways to make your collecting more fun.

As a member you will receive the YSCA e-newsletter, special low prices on selected collecting supplies, an exciting website with online support via e-mail, and a monthly e-meeting. Twice a year meetings will be held during APS StampShow and AmeriStamp Expo.

Join now to receive a treasure package including a First Day Cover, a packet of stamps, informative material, and other freebies. Members attending any of the meetings will receive philatelic souvenirs of the meeting and be eligible for prizes.