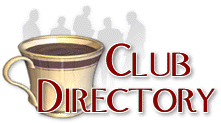 This directory lists over 2300 clubs related to Antiques and Collectibles
Click here to register your club -- Its FREE!
Find a club by name, starting with the letter:
A B C D E F G H I J K L M N O P Q R S T U V W X Y Z Other


Pacific Northwest Tool Club
Contact: Webmaster
Website

Pacific Northwest Tool Collectors
If you collect, use, or are interested in old tools, PNTC will interest you. We are a growing group of more than 450 men and women who share your interest. Membership includes collectors, craftsmen, tool dealers, historians, tool manufacturers, artists and general users of tools. Members from British Columbia, Oregon and Washington meet approximately eleven times each year, alternating between Hillsboro, Oregon, and Seattle, Washington. The meeting format includes displays, discussions, tool trading, sales, and sources for tools. The type of tools involved varies and the scope is fairly wide.

You are invited to contact the PNTC treasurer listed below, or another member, and visit one of our meetings.

To apply for membership, print the membership form (available below) and mail it to:
BILL RACINE, TREASURER, 12780 SW 231st PLACE, HILLSBORO, OR. 97123
(503) 628-1488.

If you have any questions or inquiries, feel free to contact Bill Racine at the same address and phone as above.