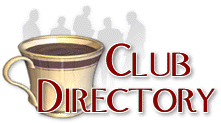 This directory lists over 2300 clubs related to Antiques and Collectibles
Click here to register your club -- Its FREE!
Find a club by name, starting with the letter:
A B C D E F G H I J K L M N O P Q R S T U V W X Y Z Other


Bicycle Stamp Club of the American Topical Association
Publications: Newsletter: Bicycle Stamps
Contact: Norman Batho
358 Iverson Pl.
Hightstown, NJ 08520 US
Website

The Bicycle Stamps Club is a non-profit, all-volunteer association dedicated to sharing information about the thematic collection of postage stamps depicting or related to bicycles, tricycles and unicycles and their derivatives.