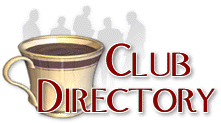 This directory lists over 2300 clubs related to Antiques and Collectibles
Click here to register your club -- Its FREE!
Find a club by name, starting with the letter:
A B C D E F G H I J K L M N O P Q R S T U V W X Y Z Other


John Reich Collectors Society
Publications: Quarterly Journal: John Reich Journal
Contact: Bradley S. Karoleff, Co.-Ed.
P.O. Box 135
Harrison, OH 45030-0135
Website

The purpose of the John Reich Collectors Society (JRCS) is to encourage the study of numismatics, particularly United States gold and silver coins minted before the introduction of the Seated Liberty design, and to provide technical and educational information concerning such coins.