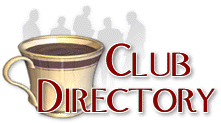 This directory lists over 2300 clubs related to Antiques and Collectibles
Click here to register your club -- Its FREE!
Find a club by name, starting with the letter:
A B C D E F G H I J K L M N O P Q R S T U V W X Y Z Other


Napoleonic Age Philatelist Unit of the American Topical Association
Publications: Newsletter: Campaign
Contact: Ken Berry, Ed.
7513 Clayton Dr.
Oklahoma City, OK 73132-5636
Website

If you are interested in Napoléon and in the fabulously eventful era from 1789 to 1815, you are invited to join the Napoléonic Age Philatelists (NAP). Our group in not just for stamp collectors, but is for anyone interested in the history and events of the period. Through articles covering almost 700 stamps already issued to honor Napoléon, we reveal the stories behind the stamps and describe what events in his life they commemorate. In fact, the French Emperor has been honored on more stamps than any other historical person, except for Jesus Christ.