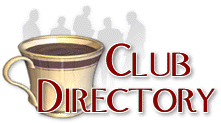 This directory lists over 2300 clubs related to Antiques and Collectibles
Click here to register your club -- Its FREE!
Find a club by name, starting with the letter:
A B C D E F G H I J K L M N O P Q R S T U V W X Y Z Other


Canadian Knifemakers Guild
Contact: Jeannie Wile, Sec.
RR #3
Bridgwater, No B4V 2W2
Phone: 902-543-1373
Website

Goal is to increase public awareness of knifemakers, not as makers of weapons, but as skilled and versatile crafts people producing high quality implements which happen to be knives.