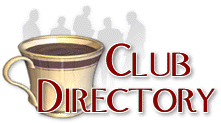 This directory lists over 2300 clubs related to Antiques and Collectibles
Click here to register your club -- Its FREE!
Find a club by name, starting with the letter:
A B C D E F G H I J K L M N O P Q R S T U V W X Y Z Other


Yankee Beemers Motorcycle Club
Publications: Newsletter: Boxer Shorts
Contact: Webmaster
Website

.The Yankee Beemers have been a driving force in the New England BMW motorcycle scene since 1984. Now the largest regional BMW club in North America, we are an enthusiastic group of BMW motorcycle owners, riders and restorers comprising of members from New England to California. Our goal is to promote camaraderie among our members through year-round monthly breakfast meetings (generally every 3rd Sunday of the month) as well as through our monthly newsletter The Boxer Shorts and with many seasonal campouts and rides.