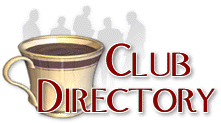 This directory lists over 2300 clubs related to Antiques and Collectibles
Click here to register your club -- Its FREE!
Find a club by name, starting with the letter:
A B C D E F G H I J K L M N O P Q R S T U V W X Y Z Other


Carnival Glass Society (UK), The

Contact: Carnival Glass Society (UK), The
PO Box 14,
Hayes, Mi UB3 5NU GB
Website

The Society was formed by a small group of collectors in 1982 and has grown to approximately 400 members. It promotes interest in the collecting of Carnival Glass, encourages research into its history and circulates information through its publications.