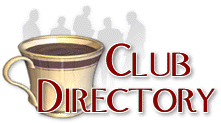 This directory lists over 2300 clubs related to Antiques and Collectibles
Click here to register your club -- Its FREE!
Find a club by name, starting with the letter:
A B C D E F G H I J K L M N O P Q R S T U V W X Y Z Other


Seattle Textile and Rug Society
Publications: Newsletter: Meeting Announcements
Contact: Fred Ingham
2016 26th Ave. East
Seattle, WA 98112
Phone: 206-325-8907
Fax: 206-325-8907
Website

The Seattle Textile And Rug Society (STARS) was founded in 1998, and is dedicated to increasing knowledge and appreciation of fine rugs and textiles for members and the general public throughout the greater Puget Sound area. Through meetings, speakers, the web, and exhibitions, STARS provides its members an opportunity to learn and to share their interest in the world of carpets, textiles and the related arts. Anyone interested in studying, collecting, preserving or decorating with textiles and rugs will enjoy being a member of STARS.