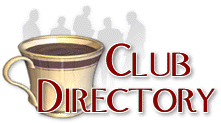 This directory lists over 2300 clubs related to Antiques and Collectibles
Click here to register your club -- Its FREE!
Find a club by name, starting with the letter:
A B C D E F G H I J K L M N O P Q R S T U V W X Y Z Other


Official G.I. Joe Collectors Club
Publications: Newsletter: G.I. Joe Collectors Club Newsletter
Contact: Brian Savage
225 Cattle Baron Parc Dr.
Fort Worth, TX 76108
Phone: 800-772-6673
Fax: 817-448-9843
Website

Thousands of members worldwide; the source for G.I. Joe information and service; monthly newsletter; send SASE for more information; membership includes subscription to 'Master Collector' newspaper and 30-word ad each month.