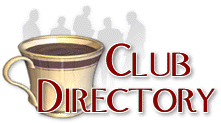 This directory lists over 2300 clubs related to Antiques and Collectibles
Click here to register your club -- Its FREE!
Find a club by name, starting with the letter:
A B C D E F G H I J K L M N O P Q R S T U V W X Y Z Other


Occupied Japan Club, The
Publications: Newsletter: Upside Down World of an O.J. Collector, The
Contact: Florence Archambault
29 Freeborn St.
Newport, RI 02840-1821
Phone: 401-846-9024
Website

The club was founded in 1979 by Sissie Jackson Fitzgerald in Louisville, Kentucky. In November 1985, the job of president was passed to Florence Archambault of Newport, Rhode Island.