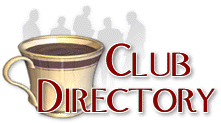 This directory lists over 2300 clubs related to Antiques and Collectibles
Click here to register your club -- Its FREE!
Find a club by name, starting with the letter:
A B C D E F G H I J K L M N O P Q R S T U V W X Y Z Other


Old Time Radio Club
Publications: Newsletter: Illustrated Press, The
Contact: Richard Olday
171 Parwood Trail
Depew, NY 14043-1071
Phone: 716-684-1604
Website

The Old Time Radio Club is an organization dedicated to the regeneration of interest in an enjoyment of that part of vanishing Americana that has become known as the "Golden Age of Radio".

Many of our members still fondly remember "Old Time Radio". Others are too young to have known it first hand and became interested through revivals and the like. It must something when the old and the young share a common interest in Old Time Radio. It means Old Time Radio has not dimmed very much with age; it still has the power to hold its listeners.

What is the source of this power? In a word, involvement. With very few exceptions, today's listener does not become involved in modern radio programming for the simple reason that there is next to nothing with which to become involved. In the heyday of Old Time Radio, a listener could spend an evening lost in the mind's eye, writhing in delightful terror as Raymond welcomed them through his creaking door on INNER SANCTUM, or battling side-by-side with Jack, Doc, and Reggie on I LOVE A MYSTERY.

The Old Time Radio collector remembers and relishes this involvement. He or she collects as many shows as he can so that he might re-live the good old days to some small degree. The collector may have begun by buying some shows from a dealer, and then trading copies with other collectors. In a short time, a respectable and interesting collection was built up.