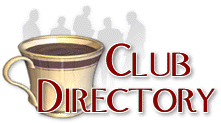 This directory lists over 2300 clubs related to Antiques and Collectibles
Click here to register your club -- Its FREE!
Find a club by name, starting with the letter:
A B C D E F G H I J K L M N O P Q R S T U V W X Y Z Other


Vintage Gliding Club
Publications: Magazine: VGC News
Contact: Geoff Moore, Mem. Sec.
Arewa
Shootersway Lane
Berkhamsted, He HP4 3NP
Phone: 01442 873258
Website

Members focus mainly on gliders designed during the 1930s, but includes some earlier and later; vintage gliders throughout the world, rallies, history.