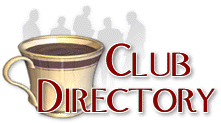 This directory lists over 2300 clubs related to Antiques and Collectibles
Click here to register your club -- Its FREE!
Find a club by name, starting with the letter:
A B C D E F G H I J K L M N O P Q R S T U V W X Y Z Other


Inliners International
Publications: Newsletter: 12 Port News, The
Contact: William Iannucci
34391 Elde St.
Chiloquin, OR 97624
Phone: 541-533-2524
Website

Inliners International was founded in 1981 by four people who shared the love of inline engines. It was their desire to form a club that would bring other inline lovers together so they could share their experiences with these unique, sometimes forgotten engines.
Initially, the club devoted itself almost exclusively to the 216/235/261 Chevys and the 248/270/302 GMC's. Today, the club has a much broader appeal and welcomes fans of 4, 6 or 8 cylinder inline engine of all makes. So whether you are an admirer, collector, racer or mechanic; whatever level your interest in vintage inline engines, Inliners International is the club for you.