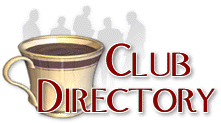 This directory lists over 2300 clubs related to Antiques and Collectibles
Click here to register your club -- Its FREE!
Find a club by name, starting with the letter:
A B C D E F G H I J K L M N O P Q R S T U V W X Y Z Other


Western States Corvette Council
Publications: Magazine: Redline
Contact: Rob Weaver
15885 Descansa Court
Morgan Hill, CA 95037
Phone: 800-409-9722
Fax: 408-778-5164
Website

* Act as the governing body for sanctioned Corvette activities such as:
o Car Shows
o Rallys
o Autocrosses
o Fun Runs and Social Events
* Establish and support uniform groundrules and competition codes for events.
* Recognize top competitors through year-end awards.
* Host an annual Convention of participating Clubs.
* Publish a regular newsletter called REDLINE .