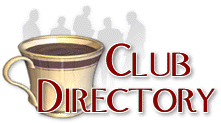 This directory lists over 2300 clubs related to Antiques and Collectibles
Click here to register your club -- Its FREE!
Find a club by name, starting with the letter:
A B C D E F G H I J K L M N O P Q R S T U V W X Y Z Other


Walter P. Chrysler Club, Inc.
Publications: Newsmagazine: W.P.C. News
Contact: Ian Smale
P.O. Box 3504
Kalamazoo, MI 49003-3504
Phone: 616-375-5535
Fax: 616-375-5535
Website

Dedicated to the preservation, restoration, enjoyment of Chrysler products: Plymouth, Dodge, DeSoto, Chrysler, Imperial, Jeep, Eagle, and related vehicles including antecedents Maxwell and Chalmers Motor Cars.