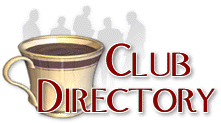 This directory lists over 2300 clubs related to Antiques and Collectibles
Click here to register your club -- Its FREE!
Find a club by name, starting with the letter:
A B C D E F G H I J K L M N O P Q R S T U V W X Y Z Other


National Antique Oldsmobile Club, Inc.
Publications: Magazine: Runabouts to Rockets
Contact: Clay Mollman, Ed.
4 Lindworth Dr.
Saint Louis, MO 63124-1454
Phone: 314-991-0961
Website

1897 through 1966 Oldsmobiles only.