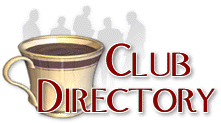 This directory lists over 2300 clubs related to Antiques and Collectibles
Click here to register your club -- Its FREE!
Find a club by name, starting with the letter:
A B C D E F G H I J K L M N O P Q R S T U V W X Y Z Other


SAAB Club of North America
Publications: Magazine: Nines
Contact: Seth Bengelsdorf, Ed.
30 Puritan Dr.
Port Chester, NY 10573
Phone: 914-937-6075
Website

Magazine contains valuable information for owners of all SAAB cars; from 2-stroke through Turbomobiles - tech tips, SAAB news, history, service bulletins, classified ads, and business ads.